Looking for our new forever homes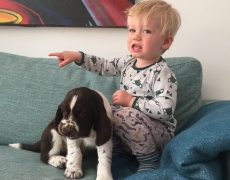 On Tuesday the pups will be 10 weeks old, and they continue to grow like a weed.
There still a few males looking for their new forever homes – also pups of show quality. Until we find the perfect family for the individual puppy we continue to enjoy their company making it a priority to get them socialised, train them, and generally have a good time.
If interested don't hesitate to call or write an e-mail: info@avida-ess.dk