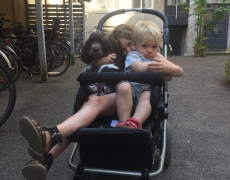 We have the pleasure of having Avida Jolly Jamaal around for a few days more until his new family is ready to welcome him home, and we are making the most of it.
Days are spend around the neighbourhood meeting dogs, and people in all shapes, ages, and sizes. And as we only have about 500 meters to some pretty great outdoor areas – Ørstedsparken (the local park), Torvehallerne (the local fresh food and very hip market), Israelsplads (a large public square with basketball courts, skate areas, flea markets, and where people just hang out), and the lakes – we tend to have some high intensity walks in puppy terms.
Such walks can tire out everybody but no matter how I'll make sure that everybody returns safely.